Gluten Free Banana Bread With Oat Flour (Sugar Free and Dairy Free too)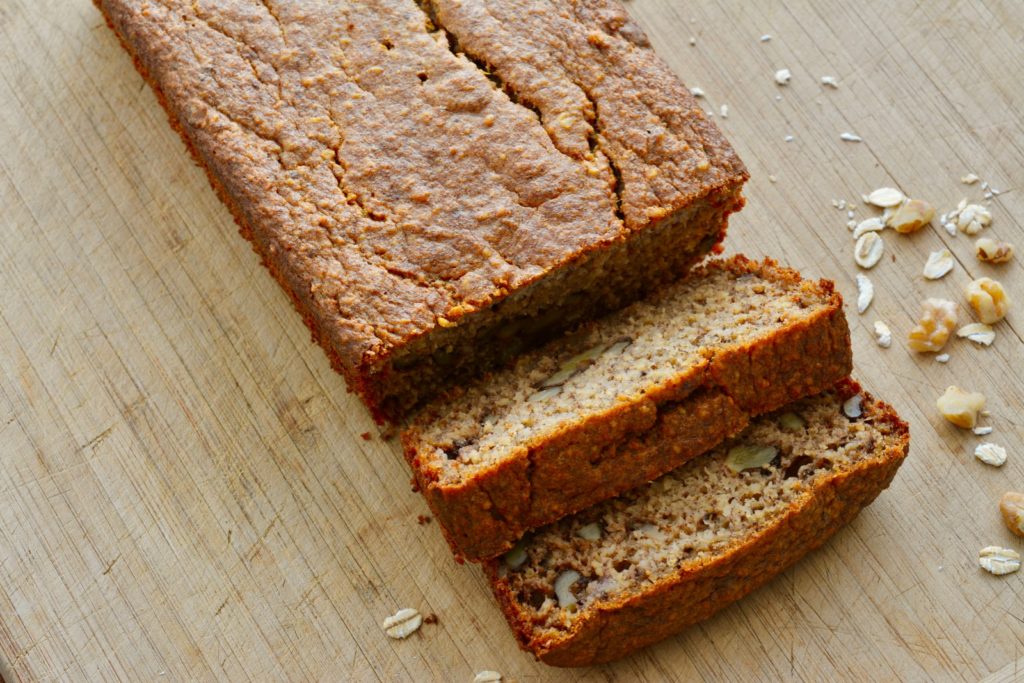 Huh? Gluten free, sugar free, and dairy free banana bread? Should the title also say "flavor free"? It's okay if that's what you're thinking. Based off of the title, I'd be wondering the same!
Let me assure you, this banana bread does not lack in flavor. However, if you're hoping this recipe will taste the same as traditional banana bread, let me also assure you, it does not. Ha!
Most banana bread recipes read more like a cake when you look at the amount of sugar in them. I'm not against sugar completely, but I'm always looking for ways to cut back. I wanted to be able to eat a piece of banana bread along with my honey sweetened coffee in the morning and not feel like I just loaded up on sugar.
But it's not just sugar that one might be concerned about. It's no secret that food sensitivities are on the rise and people are often looking for recipes that either cut an ingredient out or replace one with something else.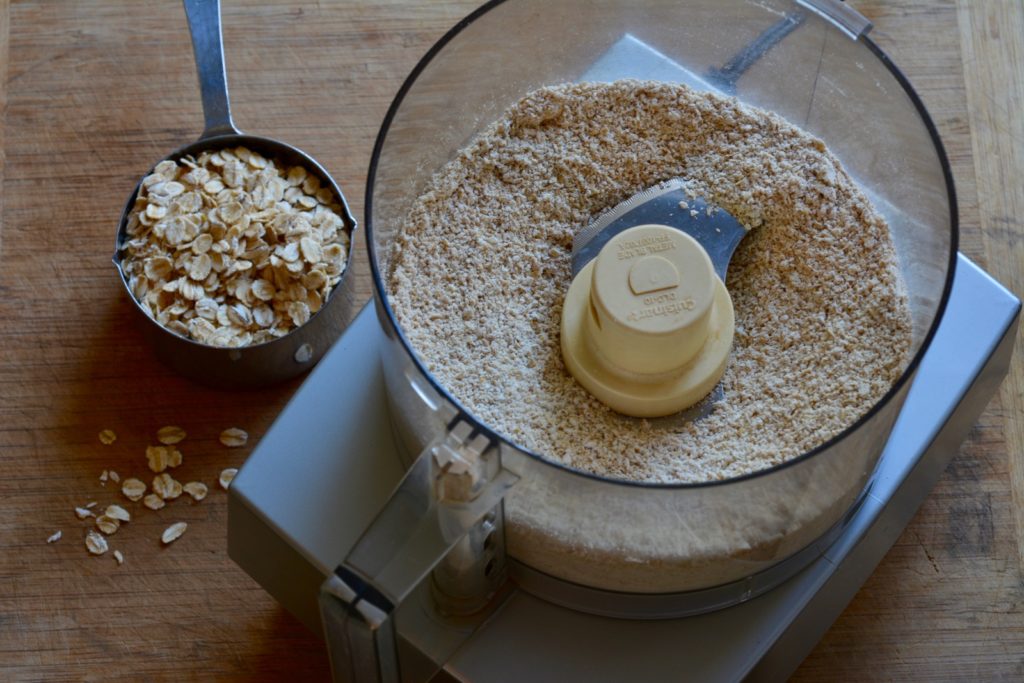 In my quest to find a gluten free banana bread recipe that was also sugar free, I was so happy to find this recipe and even happier with the results! I've made it many times over with some slight modifications.
The key here is to use VERY ripe bananas. As you know, the riper the banana, the more sugar it has. This is important since the bananas are the only source of sugar in this recipe.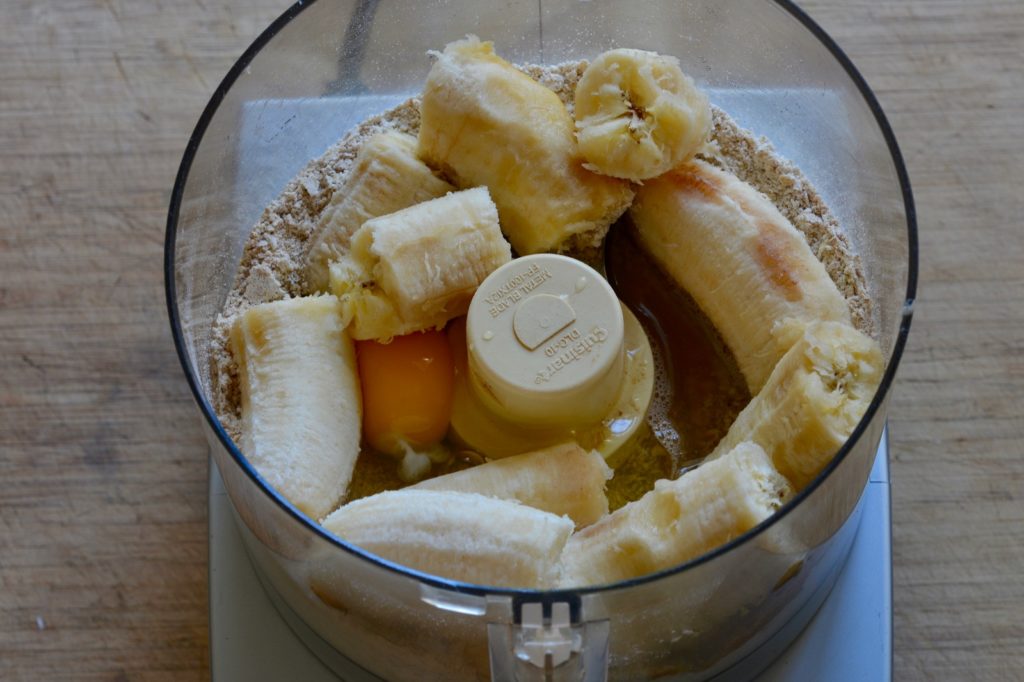 The other great thing about this recipe is that it can be mixed up in a food processor from start to finish. That means you can whip this up in no time and clean up is a breeze!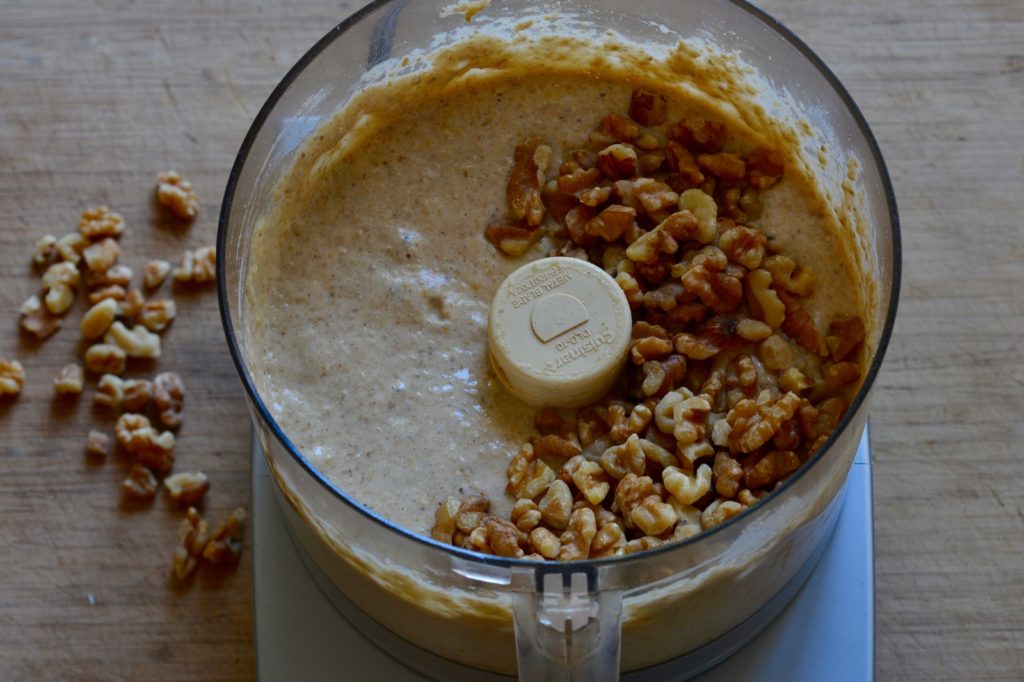 Gluten Free Banana Bread With Oat Flour
Ingredients:
4 medium sized bananas – very ripe
1 egg
1/3 cup avocado oil (you can substitute with apple sauce)
2 tsp vanilla extract
1-1/2 cups rolled oats (not quick cook) *see note
1 tsp baking powder
1/2 tsp baking soda
1/2 tsp sea salt
1 tsp cinnamon
1/2 cup walnuts
Instructions:
Preheat your oven to 350 degrees. Grease your loaf pan. (I use an 8.5 x 4.5″ pan)
Place rolled oats in your food processor and pulse several times. Then hold the button down and whiz the oats until a course flour consistency is achieved. (See photo above)
Next, add the rest of the dry ingredients (except the walnuts) and pulse a few times to combine.
Add the oil (or apple sauce if substituting), egg, vanilla and bananas then pulse to combine.
Add the walnuts and pulse to combine. If they are whole walnuts, pulse them a few extra times to break them up slightly but not until they are unrecognizable.
Pour the batter into your greased loaf pan and bake for 45-50 minutes or until a toothpick comes out clean from the center of the loaf. Allow to completely cool before cutting.
*Note – Oats are naturally gluten free. However, because cross contamination can occur, if you are highly sensitive to gluten make sure to buy oats that are labeled Gluten Free.
Enjoy!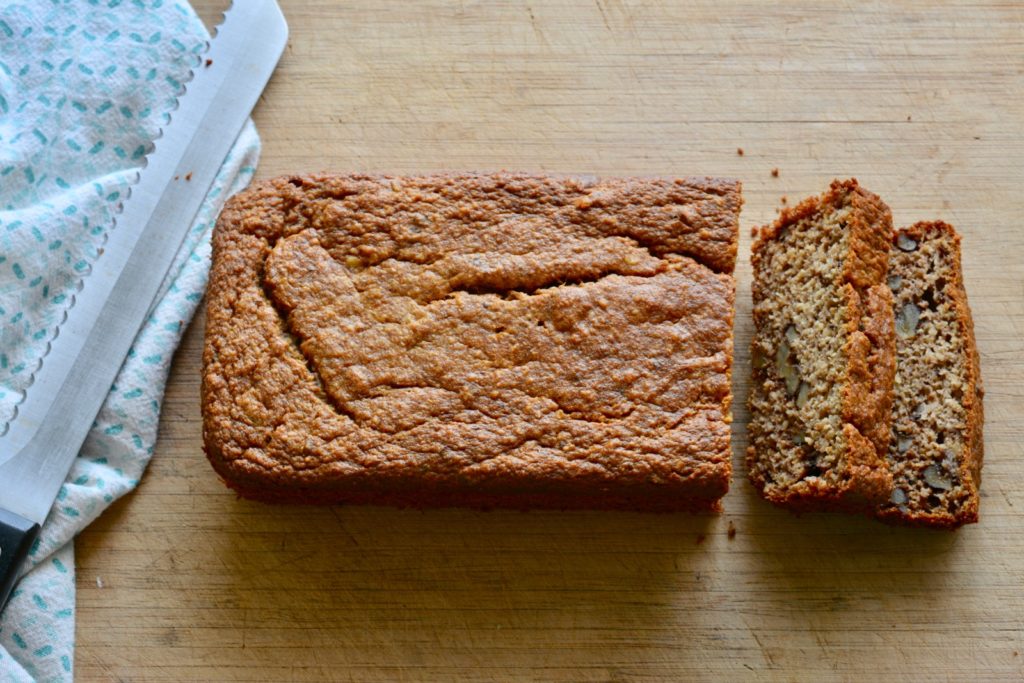 Looking for another recipe to try? How about no bake peanut butter, honey and oat bars?
Who am I? Read the about page here.